DATE
︎Fall 2018

TYPE
︎Brand Identity
︎Web Design
︎ UI/UX



In the fall of 2018, I joined the Design team of Impact Labs, organization that provides greater access to opportunities at the intersection of technology and social good. I found their mission to connect young tech-driven individuals to seasoned social entrepreneurs, meaningful career opportunities, and capital to help ignite their ideas to be inspiring. As a member of the design team, my goal was to represent their mission through the creation of a visually impactful website and playfully engaging brand identity.
1. Research

To begin our process, we conducted interviews of the other Impact Labs team members as well as students who participated in the Impact Fellowship, one of the programs hosted by Impact Labs. We gathered information to determine why the team members were drawn to Impact Labs as an organization and why previous participants in the Fellowship took part in the program. We also asked the participants in our research to define the persona of Impact Labs as an organization. After conducting our research we noticed several correlations amongst the interviewees: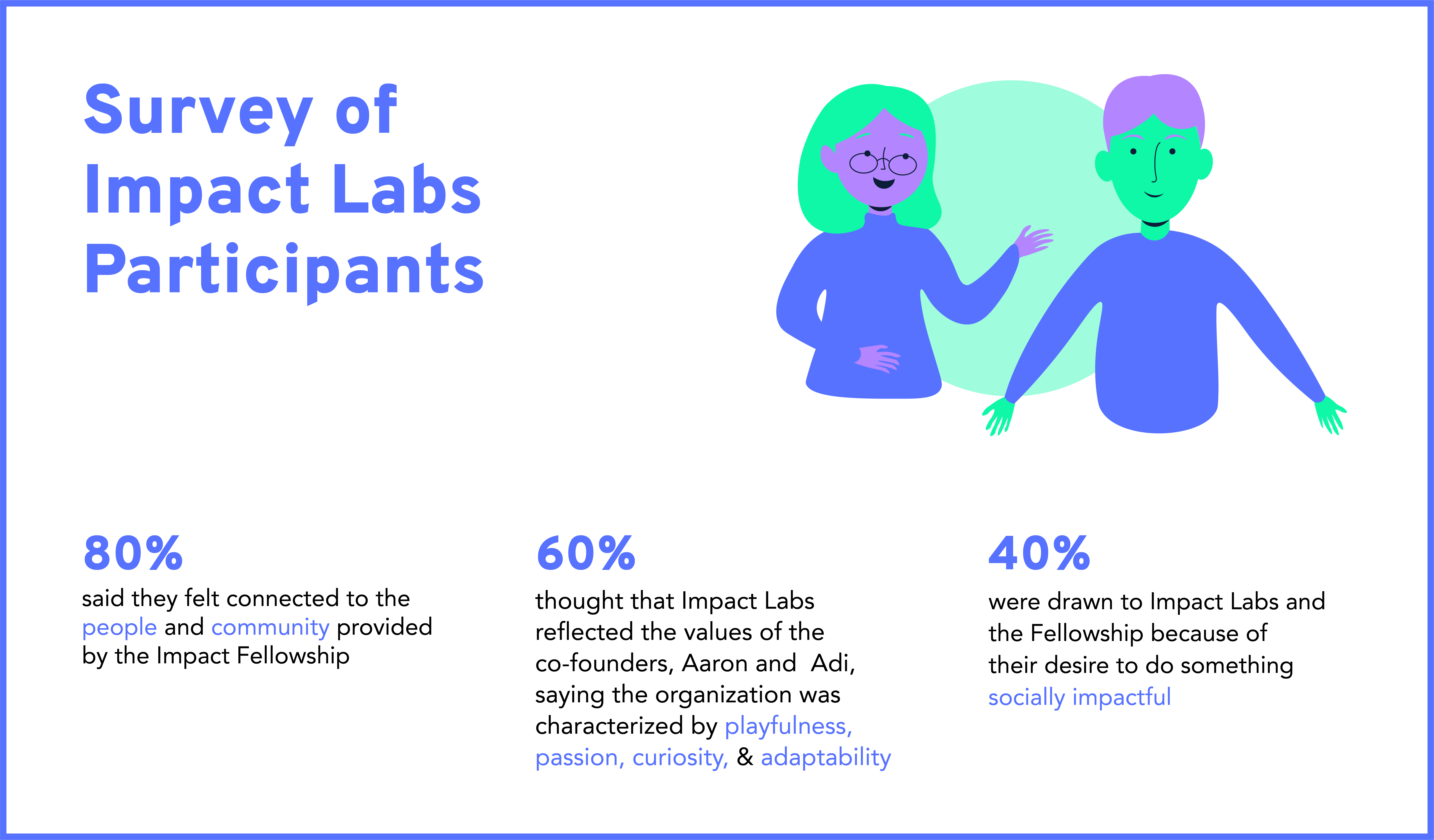 2. Iteration

After conducting research to determine our design direction, my teammate and I took the time to sketch our ideas for what the new Impact Labs website should look like. We determined that we wanted to reflect the community-building values held by Impact Labs. In order to do so, designed each page to include rounded graphics, icons, and signage to evoke a friendly tone and designed the organization of the site to make it as navigable as possible to new users.





3. Design


As we finalized the organization of the site itself, I worked on developing a revamped brand identity for Impact Labs, keeping in line with our goal to highlight the exciting and inspiring community that made up the organization.

After finalizing the details of Impact Lab's identity system, we applied them to our final design of the brand-new Impact Labs website.

'